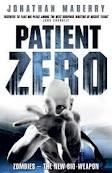 This book is recommened for people above thirteen.

It was published in 2009, not much else is known.
The story follows a Baltimore detective who is recruited into the Department of Military Sciences (DMS) and has to fight terrorists and flesh-eating zombies created by a pathogen called "Sword of the Faithful". Sword of the Faithful is a parasite that infects the brain with Prion protein. DMS is very short-handed because "Bravo" team and "Charlie" Team were wiped out in an outbreak at a hospital, and the protagonist, Joe Ledger, is installed as the head of the new "Echo" Team. Meanwhile, a Middle East terrorist group led by El Mujahid is developing new, faster-acting strains of the disease. The funding for the new strains is coming from a pharmaceutical company called Gen2000.
Ad blocker interference detected!
Wikia is a free-to-use site that makes money from advertising. We have a modified experience for viewers using ad blockers

Wikia is not accessible if you've made further modifications. Remove the custom ad blocker rule(s) and the page will load as expected.