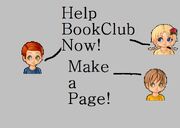 Hi.
Lately i found out about Spotlight you know the ads at the bottom of the page. I was like Hey. i should do that so i went to find out what to do Turns out.
You need over 200 wiki pages that can not be Stubs at this moment we only have 50 wiki pages!.
Helping means just making one page!
I need about 150 pages sign up here!
Ad blocker interference detected!
Wikia is a free-to-use site that makes money from advertising. We have a modified experience for viewers using ad blockers

Wikia is not accessible if you've made further modifications. Remove the custom ad blocker rule(s) and the page will load as expected.